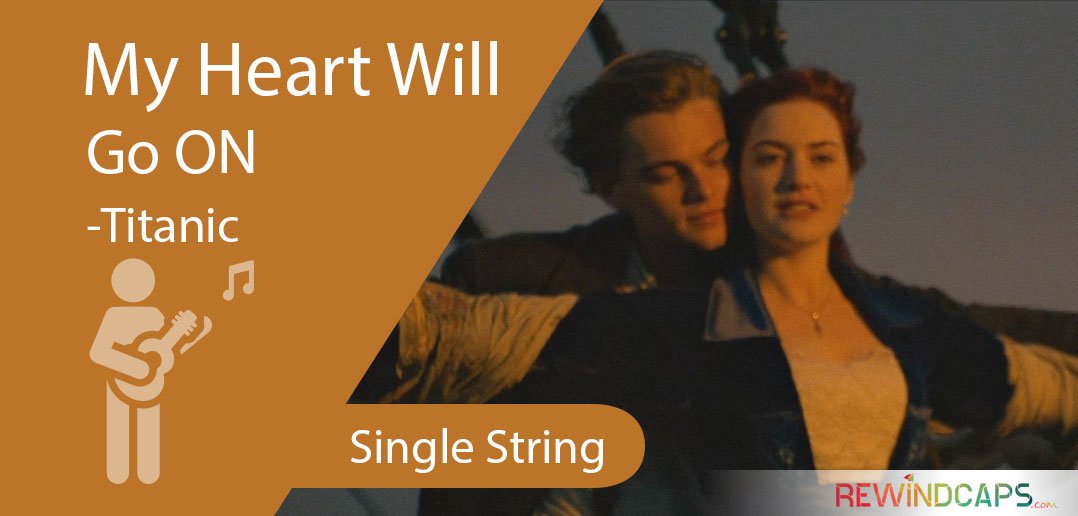 Easy – Titanic – My Heart Will Go On Guitar Tabs | (Single String) | Sound Included
Quick & Easy – My Heart Will Go Guitar Lead | Presenting the easy single/one string guitar tabs for Titanic's My Heart Will Go On. If you're beginner and would like to play the lead of this theme song from Titanic movie then you will find it easy to be played on e (High String)/1st String of your guitar.
You may also love to play – All The Right Moves Tabs on a Single String
Guitar Tabs
e -3—3-3—3–2–3—–3–2–3
e -5–7—-5—3—3-3—3–2–3—3—0
e -0—2—3—3–3–3—5—-5-5-5
e -10—8—7—5—7–8–7–5–3–2–3–3–0
Play the below Tabs on the e String (High String)/ 1st String of your instrument.
Play Along (Acoustic Guitar Music)
Near, far, wherever you are
I believe that the heart does go on…
Once more you open the door
And you're here in my heart …
Note: One String Tab Song Series is only for super beginners.
SEE ALSO: Smells Like Teen Spirit Tabs | Single String
SEE ALSO: Messages From Her Chords
SEE ALSO: Don't Leave Me Alone Chords
SEE ALSO: All The Right Moves Tabs | Single String
Titanic Theme Song Original Music Video
Song Credits
Song: My Heart Will Go On
Movie/Album: Titanic
Artist/Singer: Celine Dion
Language: English
Releasing Year: 1997