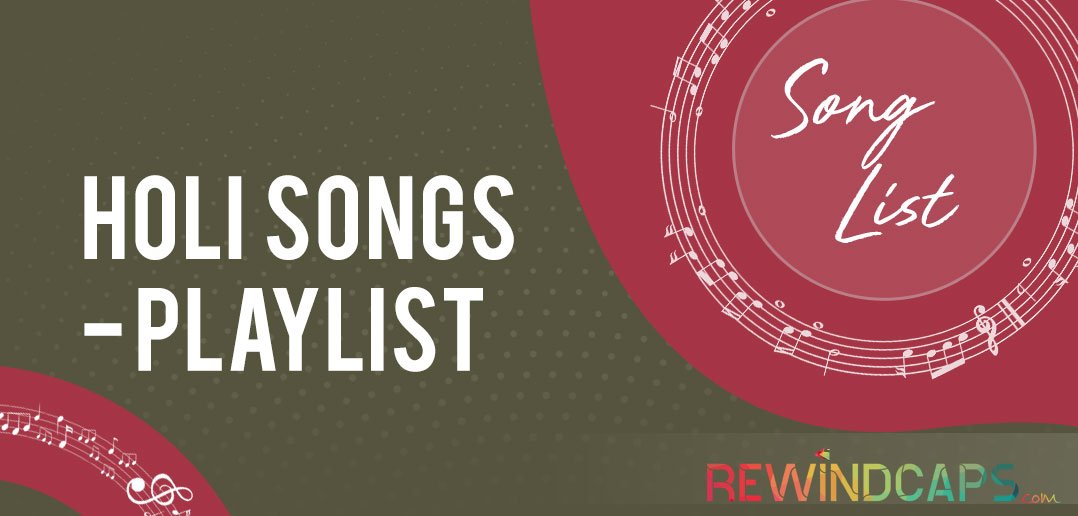 List of Top 23 Old Hindi Holi Songs (Classic Bollywood) + 7 (Hollywood)
Classic/Old Holi Song Hindi List | Organizing a party is a hectic task, arranging food, drinks, decorations and calling a Dj, But worrying about whether the songs are going to be good enough for everyone to have an awesome time is normal. So for this holi, 2020 we get you the best songs you can play on repeat to have the best time with your loved ones and your friends. Worry not and just start colouring!
The Best Old Hindi Holi Songs Hindi Playlist for 2020
#1 Holi Khele Raghuveera
The beat on this song will get even the oldies on the dance floor. Its as if the song is being sung by the party guests themselves.
#2 Holi ke Din
Full of rhythm and beats, this is the best pick for a holi playlist. This song gives guests a time to themselves and a moment of enjoyment.
#3 Rang Barse
Definitely the most popular holi song, generations after generations have grown up on this tune. There couldn't be a soul who doesn't recognise and move to this song.
#4 Balam Pichkari
Ofcourse from one of our favourite movies Yeh Jawani Hai Deewani, this song gets the child out in everyone. Pick your pichkaris and colour the area!
#5 Soni Soni
This classic tune is a must for this holi party.
#6 Chhan Ke Mohalla
Action Replay was full of action, hence the song is the best you can play in the midst of typical holi songs to get the crowd cheering like never before. Its almost as if the singer was right there.
#7 Aaj Na Chodenge
Another classic, makes the playlist more colour and family oriented.
#8 Do Me a Favour, Lets Play Holi
The title of the song says it all. Lets just obey.
#9 Lahu Munh Lag Gaya
Everyone wants songs that our filled with excitement and feelings. Heres a good pick.
#10 Tune Maari Entriyaan
Everyone will be on the dance floor the moment this beat drops. We assure you. Each person will pick up the tempo and show their moves.
#11 Madhubala
A lot of people just this as the first song to start the party, but we've got you a better playlist.
#12 Haule Haule
Some soothing melodies are surely a saver and give the party a cloud of emotional attachment.
#13 Badri Ki Dulhaniya
One of the hottest songs in Bollywood, definitely needed to be on this holi party.
#14 Go Pagal
No better way to hit the dance floor with young and the old.
#15 Jai Jai Shiv Shankar
Sometimes remembering god and having fun is also acceptable. This one fits perfectly into this festival of colours.
#16 Holiya Mein Ude Re Gulal
Grab your packet of gulal, ask for this song and greet everyone a happy holi.
#17 Mind Na Kariyo Holi Hai
All those uncle and aunties who only come for the food and hate the colour or a drop of water this is for all of you: Don't mind it please.
#18 Ang Se Ang Lagana
No one will want to be away from this party with this song coming up. Specially the Shah Rukh Khan fans.
#19 Holi Ke Din Dil Khil Jaate Hain
Definitely, colours do make the city bloom. And it is pretty much evident on this beautiful colourful day.
#20 Saat Rang Mein Khel Rahi Hain
Some classic tunes are never a bad idea.
#21 Gali Gali
Best song to get yourself up and onto the dance floor.
#22 Are Ja Re Hat Natkhat
For all those naughty children wetting the area and colouring every single thing around them.
#23 Holi Aayi Re
The festival is here, lets all have some fun.
BONUS: Top 7 Handpicked Hollywood Holi Songs
Here are some picks from hollywood, which were inspired by the Indian festival of colours. They are the top adds to your holi playlist and they couldn't be better. These beats make it impossible for you to stay still.
Hymn For The Weekend
Bounce
Take It Off
The City
Paramore Now
Calvin Harris Colours
Ek Junoon