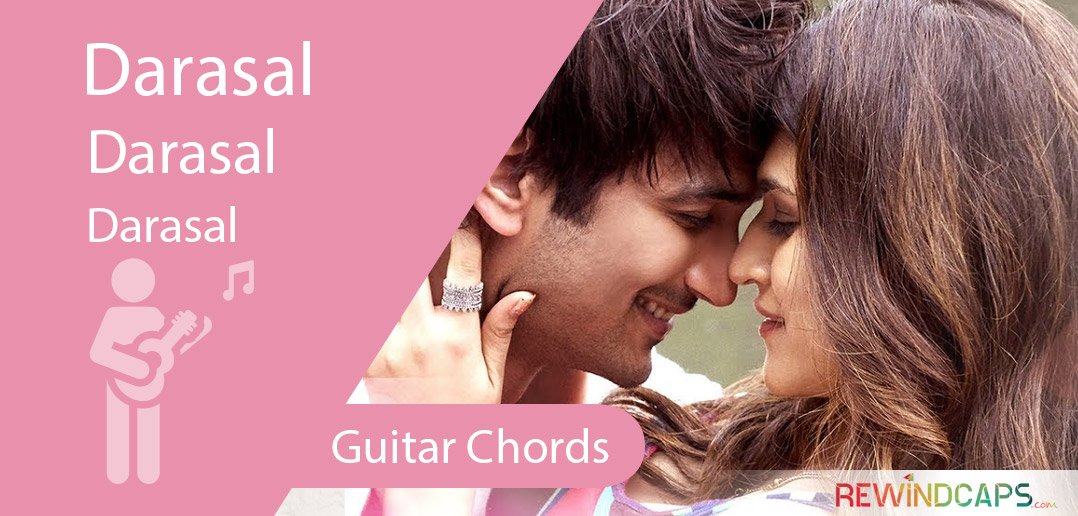 Guitar Chords of Darasal | Atif Aslam | Raabta [With Strumming Pattern]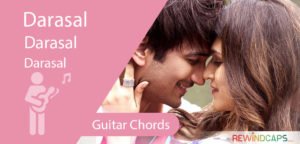 Guitar chords of Darasal: This song is really very soulful. Base chord to play Darasal on Guitar is C Chord and originally in the song total 8 chords are used while recording the music for Atif Aslam's darasal guitar chord. But you can play this song with just 6 or 7 chords as well, it won't make much difference. The strumming pattern for Atif aslam darasal chords is like DU(c)UU(c)U, Here D stands for Down Stroke, U stands for Up stroke and (c) represents the chuck sound. Atif ji has beautifully sung this song with the Jam8 music director.
Song Credits-
Song Name: Darasal
Singer: Atif Aslam
Music Director: Jam8
Lyrics: Irshad Kamil
Music Label: T-Series
Year: 2017
Suggested Strumming Pattern
Strumming: D U (c) U U (c) U
D – Down Stroke
U – UP Stroke
C – Chuck
Tum to Darasal Guitar Chords with Lyrics
Intro guitar tabs of Darasal Atif aslam song
E—————————————–
B—–5———————-5————
G-5/7—–5——5/7—-5/7——5——–
D————–5——————-2-2/5–
Base chord/ Key note of this song- 
C Chord
All chords of Darasal Song-
C, Am, F, G, Dm, E, Em
C..Am..F..G
Tum toh darasal khwab ki baat ho
C…….Am…….F……..G…..
Chalti mere khayalon mein
F……….Dm……….
Tum sath sath ho
C………F……
Milti hai jo achanak woh saugat ho
F…………Dm………………C..Em
*Here when Atif sings the "woh saugat ho" the chords pattern becomes a little different  like DUD UU(c) UU(c) UU(c)U and at this point in song originally musicians played the C chord with the another variation and at the ending they used the Em Chord. But it won't make much difference, if you're a beginner you can continue the song with the C chord as well.
Tum toh darasal mithi si pyaas ho
C…….Am…….F……..G…..
Lagta hai yeh hamesha ke
F………..Dm………..
Tum aas paas ho
C…….F……
Thehra hai jo labon pe woh ehsaas ho
F…………Dm………………C..Em
DUD UU(c) UU(c) UU(c)U
Teri adah-adah pe marta mein
Dm…………………….
Wafa-wafa si karta kyun
C……………….
Hadon se yun guzarta mein
Dm………………….
Zara zara zara..
G…………………..
Tum toh darasal saanson ka saaz ho
Dil mein mere chhupa jo wahi raaz raaz ho
Kal bhi mera tum hi ho mera aaj ho.. (x2)
Mm…
Baarish ka pani ho tum
………..C……….
Kaagaz ki kashti hun main
Em………….Am……….
Tujhme kahi main beh jaata hoon
Em……………F…………
G……………………
Ho.. milne hun tumse aata
C……………………
Waapas nahin jaa pata
Am………………….
Thoda wahi main reh jaata hoon
F…………………………
Ho oh..
G………………………
tum toh darasal ishq ho, pyar ho
C……..G…….F…….E
Aati mere fasano mein tum baar baar ho
Dm……..C…………..F……….
Inkaar mein jo chhupa hai woh ikrar ho (x2)
Dm………….G…………..C…….
Atif Aslam : Darasal Video Song | Raabta | Sushant Singh Rajput & Kriti Sanon
If you find any mistake in the above chords for the tum to darasal chords by Atif Aslam, please feel free to comment/contact us on social media So that we can improve the post quality.